Arizona's Premier Dog Training Program
Currently accepting a select number of young dogs.
See why I'm now training the second and third generations of dogs for my clients.
You too can have the companion of a lifetime!
Contact us at movementmarkers@gmail.com or 520 266 3124.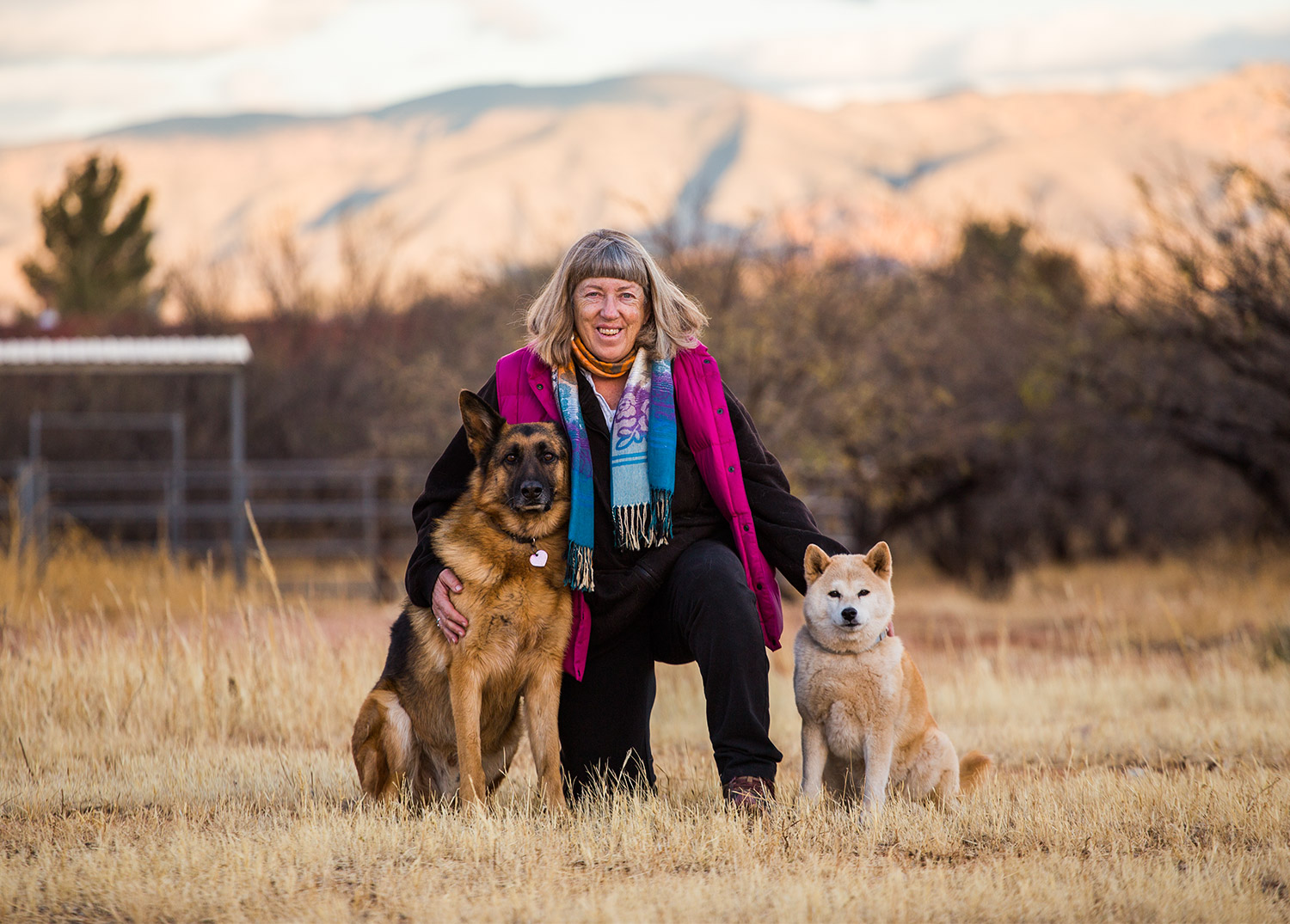 Are you frustrated with your beloved puppy? Has he eaten his way through your house, destroying your serenity as he goes? Do you have a dog who you love, but you're starting to not like very much??
At the forty five acre Arizona Doggy Dude Ranch, your dog will live in trainer Maryna Ozuna's home, be one of just two to three dogs being trained by her at a time, and be worked with daily in a wide variety of contexts both at the ranch and in town to build a confident and happy, mannerly and obedient dog. The quality of care of your dog's stay will be enhanced by Maryna's nationally recognized expertise in canine movement, structure and canine sports therapy.
Your dog will be trained by Maryna personally and monitored throughout the day in a controlled setting, not isolated in a kennel learning bad habits from other untrained dogs.
One of only three trainers nationally whose work has been incorporated into the revised The Art of Raising a Puppy by the Monks of New Skete, Maryna is known worldwide as a trainer of trainers, and is a juried member of NADOI (the National Association of Dog Obedience Instructors), a Certified Dog Trainer with the IACP (International Association of Canine Professionals), and a group expert consultant to the 3500 member Professional Women Dog Trainers Facebook group. She has been honored to be featured as a speaker at the 2019 and 2021 Nadoi National Conference and the 2022 IACP National Conference.
Maryna has 30 years of experiencing training, managing, and competing with dogs. She is the founder of Canine Kinaesthetics™, a comprehensive system of movement analysis and hands on therapy work for dogs. She is also the founder of the Movement Markers clinics a skills building workshop focused on identifying, assessing, using, and transforming structural and movement cues to aid in behavioral and sports training. This is the most comprehensive look at movement analysis and its correlations to behavioral restructuring and sports development that exists in workshop format.
But above all she is dedicated to bringing the best of her craft to meet your needs to create a happy, focused and responsive dog for your home. That is the joy that fuels everything else.
"Nearly 9 years ago we called on Maryna for help in training our newly adopted Labrador Retriever puppy, Brody. She came highly recommended and we were extremely happy (over the moon, actually) with her entire training process from start to finish. However, what is most important is the relationship that is created once you become a client. You truly have access to Maryna's gift throughout the time you have with your pet.
A while back, Brody became ill. The vets couldn't pinpoint exactly what was wrong, and when he became lame in a hind leg, we were treating Brody as if he had an injury in the leg. Brody's behavior, and my gut, signaled something else was going on. I called Maryna and explained what was happening. She listened intently, and told me to immediately get Brody to the vet for a white blood count. Low and behold, Brody had a serious infection that was affecting the bone marrow and had a critically low white blood count, we could have lost him. Within a week of proper treatment, Brody was getting back to his old self. Once Brody was healthy we made a return visit with Maryna for a "tune-up" in training as the illness created a bit of a set back. Maryna was patient with us and worked with Brody cautiously and carefully under her watchful eye.
As we approach Brody's 9th birthday next month, he is still the same fabulously lovable lunk head he was as a pup. He's a little slower now, but the same proper, behaved, gentle boy that we brought home after his time at the ranch. Maryna was an integral part of starting pet ownership on the right path, and she's stayed with us every step of the way. We highly recommend her and thank her! I think Brody does too."
Shellie F.
Philadelphia